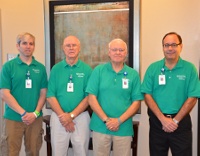 Rockwall County Hospital Auxiliary, Inc.

We are excited to announce the formation of the Rockwall County Hospital Auxiliary, Inc. Auxiliary volunteers will help others and meet new friends, learn new skills, gain new insights and achieve a sense of accomplishment.

As a nonprofit organization, we strive to promote the health and welfare of the Rockwall community in accordance with the mission, vision and values of a nonprofit hospital auxiliary. Our auxiliary donates time and money to several charitable organizations in the area, offers scholarships to Rockwall County high school seniors and provides support services within our local hospital.

In order to accomplish our charitable goals, we hold periodic fundraisers and require nominal annual dues from each auxiliary member. Dues are payable upon entering the volunteer program.