Rockwall Women's Imaging and Breast Center
At the Rockwall Women's Imaging and Breast Center we understand that women have unique health care concerns and we address those concerns with great care and attention. We believe that women deserve access to a special place designed specifically for them, where they can obtain highly specialized diagnostic services in a compassionate, caring environment.



We are privileged to have state-of-the-art equipment that enables us to treat our patients efficiently and accurately. Our radiologists are responsible for interpreting images and oversee all examinations done at the center. Each radiologist has incredible credentials and years of expertise in their field. For these reasons, our center is able to offer:
| | |
| --- | --- |
| • | 3D Total Breast Ultrasound, promising new technology that assists in detecting cancer earlier |
| • | Mammography, both routine screening and diagnostic services |
| • | CAD services on all mammography images, giving that all important "second look" to the patient's images |
| • | Breast MRI in conjunction with MRI breast biopsy |
| • | Breast sonography including same-day core tissue sampling for diagnostic patients |
| • | Stereotactic breast biopsy, which allows tissue diagnosis of minute areas without the risk and inconvenience of general anesthesia and/or a possible hospital stay |
| • | Ultrasound, that uses inaudible sound waves to visualize organs and tissues of the body |
| • | Bone Density for measuring bone mineral density |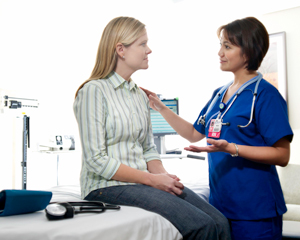 The employees of the Rockwall Women's Imaging and Breast Center take pride in the care of our patients.

 Our entire staff is passionate about breast health and early detection of breast cancer. This is evident in the education and service they provide their patients.

To help estimate your risk of developing breast cancer we offer breast cancer risk assessments, which will assist you in better understanding your health and preventative care needs. The breast cancer risk assessment results will only provide an estimate for breast cancer risk based on your risk factors and is not an indicator for predicting breast cancer. To complete the breast cancer risk assessment click the link below to complete the questionnaire. Please print the results and discuss them with your physician or contact the center at 469-698-1334 for a consultation.

http://www.cancer.gov/bcrisktool

We have made it our mission to reach out to the women of our community, our mothers, daughters and friends; to ask you what's important, what you expect and need from your health care provider. At the Women's Imaging and Breast Center at Texas Health Presbyterian Hospital Rockwall, we are committed to meeting your needs and exceeding your expectations.

Call 469-698-1100 to schedule your mammography today.
3D Total Breast Ultrasound
The 3D Total Breast Ultrasound is a quick, painless, radiation-free imaging technology that provides a realistic view of the entire breast, giving your physician a complete view of your unique anatomy and capturing any smaller breast cancers that could be overlooked by a standard mammogram. It does not replace standard mammography; but for some patients, especially those with dense breast tissue or a history of breast cancer, or it may be considered an important tool for complete breast health.
The Women's Imaging and Breast Center utilizes state-of-the-art digital mammography technology on all screening and diagnostic mammography exams. Digital mammography is different from standard film mammography in the way the images are recorded, viewed and manipulated and then stored by the Radiologist. Since the radiologist can electronically manipulate the images' brightness, contrast and magnification, abnormal areas may be more clearly visualized. Also, there is no waiting for film to develop, which means shorter exam times. There are also less retakes due to overexposure or underexposure, which saves time and reduces radiation exposure.

Rockwall Breast Center is pleased to have a computer aided design (CAD system which assists in early detection by acting as a "second eye". ICAD technology is designed to help Radiologists identify potential cancers – and identify them earlier. Studies have shown that using the CAD system can improve early detection by 20%.

If you have had previous mammograms at a different location, please ask about our mammo retrieve service. We can access your previous films and have them available for your appointment.
A breast MRI uses dedicated breast imaging coils and has a higher sensitivity thereby making it more likely to locate smaller tumors. The Breast MRI COIL with Dynacad Biopsy System offers the ability to perform on the spot biopsies for suspected cancerous spots. This reduces the period of waiting and angst that often accompanies news that further diagnostic investigation is needed.
Stereotactic, or image-guide, mammography pinpoints the exact location of a breast mass by using a computer and x-rays taken from two different angles. A biopsy is then performed using the given coordinates. This type of biopsy is less invasive, less painful and just as accurate as surgical biopsy.
Diagnostic Ultrasound is a medical imaging technique that uses inaudible sound waves to visualize organs and tissues of the body. The scans are performed by a sonographer. Besides enabling diagnoses, the radiologist can perform procedures such as biopsies with the guidance of ultrasound.
Bone density scanning, also called Dual-Energy X-ray Absorpitiometry (DEXA), is a form of X-ray technology used to measure bone loss. DEXA is today's established standard for measuring bone mineral density. In this safe, painless, 10-minute scan, minimal radiation is used to determine the bone density of the spine, hip or wrist. All of our DEXA diagnostic technologists are highly skilled professionals certified in the field of radiology.