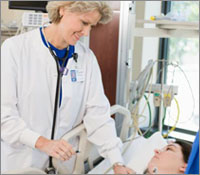 Patients facing the challenge of an acute, life-threatening injury or illness can take comfort in knowing that Texas Health Presbyterian Hospital Rockwall has a comprehensive Intensive Care Unit (ICU). Community physicians on the medical staff provide expertise and care coordination along with experienced critical care nurses and a multidisciplinary team approach including cardiopulmonary services, physical therapy, social services and dietitian services.

Physicians and nurses have access to numerous on-staff specialty services including: pulmonology, cardiology, internal medicine, anesthesia, gastroenterology, surgery, hematology, oncology, infectious diseases, nephrology, neurology, orthopedics, urology and vascular surgery.

The ICU is small enough that nurses can provide personalized, high-quality care for each patient and ensure comfort for their families.